Changing trade relations with China over the course of the eighteenth century led to a fashion for all things Oriental in Britain. Garden owners were not immune to this shift in taste and they even created small Chinese-style buildings in their gardens. Although fuelled by passion for the East, these buildings were often not like any actual Chinese buildings but rather inspired by a vague sense of the exotic!
Canal
View of Such Parts as are Seen from the Building at the Head of the Lake at Stowe, Buckinghamshire, Jacques Rigaud (French, Marseilles 1681–1754 Paris), ca.1739, Harris Brisbane Dick Fund, 1942, www.metmuseum.org
The canal at Arcadia provided the focus for many amusements, some of which were rather lavish and accompanied by music.
At ten the gardens were illuminated with above a thousand lights, and the water before the grotto was covered with floating lights. At the farther end of the canal on the Ship, which was curiously figured with lights, was a place for the music, which performed all supper time. [(Stowe), Account of the visit of Princess Amelia in July 1764 from Kate Felus: see further reading list]
[Francis Harding, active 1730–1766, British, Warwick Castle, ca. 1764, Oil on canvas, Yale Center for British Art, Paul Mellon Collection]
Deer park
[Althorp Castle, Northamptonshire, William Daniell, 1769-1837, (Yale Center for British Art, Paul Mellon Collection)]
Surviving from the medieval period, Arcadia's deer park was still well stocked and much enjoyed in 1751 when it was used as a venue for the popular sport of hunting. Today, you can still see deer roaming through the trees.

D.D. is raising his paddock-wall. About a fortnight ago a man got over it with three dogs and set them at our deer but luckily the gardener saw them before any mischief was done; we now have sixteen deer. We killed a doe some time ago, as fine fat venison as ever was eaten, but I own, though D. D. laid a plot to deceive me, when I discovered it was one of my own deer it took off my pleasure of eating it, but that's a folly I must try to break myself of, for they breed so very fast and thrive so prodigiously, and our fields cannot well maintain above 15 or 16. [(Delville), Mrs Delaney to Mrs Dewes, February 1751]
Roothouse
In the eighteenth and nineteenth centuries it was popular to build a 'roothouse' as a feature to be spied on a garden walk. These little buildings were quirky rustic constructions of bark and twigs, often with tree roots twisting around them. The example at Arcadia survived only a few decades, but you can still see the foundations on this spot today.
Mr Wray & Mr Edwards came here on Saturday, & will stay out this Week. As a Preservative from Dulness this place is the very busiest scene you can imagine. All kinds of Business are going on here with all Sorts of Materials from Brick & Stone with which the new Room is slowly rising, to Roots & Faggots & Faggots that compose a House erecting in the Garden under Mr Edward's direction who has great fame in the World as a Wooden Inigo. It is placed near the altar at one end of the grove that stands in, & will look very rustic & suitably to the Ancient Persic Simplicity – or should you rather suppose it a British Work, you would not quarrel with it for that I hope, if it does but agree with the plain & solemn appearance of the whole place. (I might perhaps tell you that it causes great disputes in the Country whether it is design'd for a Barn or a Woodstack, but I would drop that for the honour of my Neighbours. I think I must get an Eolus's Harp to hang up among the Trees, it will really do vastly well, & I thank you for having nam'd One & put it into my Head. [(Wrest), Marchioness Grey to Lady Talbot, 3 August 1749 (Beds Record Office L30 /9a/5/132)]
Lady Austen's lackey, and a lad that waits on me in the garden, drove a wheelbarrow full of eatables and drinkables to the scene of our fete champetre. A board, laid over the top of the wheelbarrow, served us for a table; our dining-room was a roothouse, lined with moss and ivy. At six o'clock, the servants, who had dined under the great elm upon the ground, at a little distance, boiled the kettle, and the said wheelbarrow served us for a tea-table. We then took a walk into the wilderness, about half a mile off, and were at home again a little after eight, having spent the day together from noon till evening, without one cross occurrence, or the least weariness of each other — a happiness few parties of pleasure can boast of.
(Olney), William Cowper to Rev William Unwin, 29 July 1781
Parkland
Arcadia's parkland was widely agreed to be one of the finest in the county, having been designed by Capability Brown. Not everyone was impressed by Brown's work though. In 1774 Mrs Delany declared of his work at Luton Hoo:
They have opened the view to the river, and the ground and the plantations are fine. It would be better if there was a greater command of the river, and if MR. BROWN had not turn'd all the deer out of the park; they are beautiful enliveners of every scene, where there is a range sufficient for them. [(Luton Hoo), Mrs Delany to Bernard Granville, 16 September 1774]
Round the free Lawn here gadding Heifers stray,
And frisking Lambs in sportive Gambols play.
[(Stowe), G.B. Clarke, ed., Descriptions of Lord Cobham's Gardens at Stowe 1700-1750, 1990]
Billiard room
Billiards became a fashionable game in the Georgian period. Although it was more common to find dedicated rooms within the house, garden buildings could also find themselves being built or adapted for the use of this game.
The Billiard Room. This is a stately gothic edifice, extremely well executed, and does much honour to the designer. Its inside is curiously and richly adorned with stucco; the ceiling remarkably so. At one end, in a niche, is a bust of Homer; at the other, a Cicero. A billiard table, and a small organ, are the furniture of this superb room; and you have from the windows a lively view, resulting from the garden, the lawn, and the woods. [(Envil), Joseph Heely, Letters on the Beauties of Hagley, Envil and the Leasowes, 1777]
Haha
[The Long Canal and Gibbs Temple, Hartwell House, Buckinghamshire, Balthasar Nebot, 1700-1770 (Buckinghamshire County Museum)]
Hahas were an invaluable device in the eighteenth century for keeping the cattle and sheep in the parkland where they animated the view whilst preventing them from accessing gardens nearer the house were they could cause expensive damage. A sunken ditch acted as a barrier that prevented livestock from leaving their designated area, but without the visual intrusion of a fence or wall.
From hence you turn along a pleasant Green Walk, backt with all sorts of Flowers, and Flowering Shrubs, when you come to the middle, you find a pretty Garden Seat, where you set down and view the House, and a pretty paddock, devided from the Gardens by a Ha Ha ditch, the paddock is stockt at this time with two fine Cows, two black Sows, a Bore, and a Jack Ass. [John Macclary, gardener at Rousham, 'A Description of Rousham', letter written in 1750 (Rousham House Archives)]
Bowling Green House with nine-pin alley & tennis court
[View of a Gloucestershire House: A Garden View, with Picnic Party in Center Foreground, circa 1755, Thomas Robbins (Yale Center for British Art, Paul Mellon Centre)]
Bowling was a widespread and popular sport in the eighteenth century and at Arcadia there was even an attractive pavilion next to the bowling green, in which players could enjoy tea or shelter from unexpected rain showers. Nearby was an alley for ninepin bowling and also a tennis court.
In the afternoon we drank tea in the Bowling Green house, or rather under the arcade, from whence the view of the water & the old oaks beyond it is very fine.
[(Wrest), John Campbell , 3rd Earl of Breadalbane, To Marchioness Grey, 8 June 1774)
Joseph Addison, 'The Bowling Green'
Where smooth and level as the Summer Main,
A spacious Area opens on the Plain;
While with descending Dews the Herbage sweats,
Nor feels the rising Sun's intenser Heats,
The sharpen'd Scythe prevents the grassy Height,
And reaps the scanty Harvest of the Night:
The rolling Stone renews its Morning Round,
To crush the springing Turf, and sink the knotty Ground.
And now the polish'd Globes, a num'rous Band,
Prepar'd for Motion by the Artist's Hand;
Glitt'ring with Oil, and splendid to the Sight,
O'er the soft, verdant Surface speed their Flight.
But least some Bowler should his Cast disown,
By diff'rent Marks the diff'rent Orbs are known:
For Gamesters vary; some prefer the Bowl,
That byass'd wheels obliquely to the Goal:
While others will a diff'rent Choice approve
Of those, which in a Line directly move.
The chosen Numbers part on either side,
As, or Consent, or doubtful Lots divide:
Each Chief assumes his Arms; when now behold
The Jack exulting o'er the Surface roll'd;
At which their missive Orbs the Bowlers aim,
And who arrives the nearest, wins the Game.
The Leader poises in his Hand the Bowl,
And gently launches to the distant Goal:
The current Orb prolongs its circling Course,
Till by Degrees it loses all its Force.
When now another o'er the Level bounds,
And Orb succeeding Orb the Block surrounds:
Scatter'd they lie, and barricade the Green,
That scarce a single Bowl can pass between.
When now with better Skill, and nicer Care,
The dext'rous Youth renews the Wooden War,
Beyond the rest his winding Timber flies,
And works insinuating, and wins the Prize.
But if perchance he sees, with Madness stung,
The lagging Wood move impotent along;
If its faint Motion languish on the way,
And, short of Length, it press the verdant Lay:
Nimbly he strides behind a-cross the Grass,
And bending hovers o'er the rolling Mass;
Least foul Disgrace should on his Arm redound,
He blames the Rising-Rub and guilty Ground.
What sudden Laughter echoes o'er the Green,
When some unlucky, artless Cast is seen;
When the too pond'rous Lead with stubborn Force
Allures the Globe from its appointed Course?
The Bowler chafes, and fruitless Rage ensues,
His Body to a Thousand Postures screws:
He blames he knows not what, with angry Blood,
He frets, he stamps, and damns th' erroneous Wood:
Th' erroneous Wood his fruitless Rage disdains,
And still its former, wayward Course maintains.
But if a Bowl, dismiss'd with equal Strength,
Obtains exactly the intended Length,
And, nicely passing thro' the crouding Balls,
Prone on the passive Jack incumbent falls:
With loud Applause the splitting Heav'ns they rend,
And all the Caster and the Cast commend.
When now the adverse Foe projects around
His careful Eyes, and marks the ambient Ground:
And, studious the contiguous Globes to part,
He summons all his Strength and all his Art;
Th' exerted Vigour of his Nerves applies,
And rapid from his Arm the brandish'd Engine flies.
Scarce half so swiftly to th' Elëian Goal
With rival Speed the whirling Chariots roll;
While the fleet Axle mocks the lagging Wind,
And leaves the flying Village far behind.
[The Bowling Green and the Octagon Pond, Hartwell House, Buckinghamshire, Balthasar Nebot (c.1700–c.1770) Buckinghamshire County Museum]
My next work will be to make a nine pin alley, which I have undertaken to do; we have a little odd nook of a garden, at the end of which is a very pretty summer-house, and in the corners of it are houses built up for blowing auriculas; it is upon the whole of a triangular form, long and narrow, much like this scratch [diagram in the book]. The walls to be covered with evergreens, and room enough for borders of flowers. It was originally designed for a nursery for flowers, but the walls are too close, it is very near the house, and will make a special nine-pin alley, which I think a very merry exercise. We had thoughts of having a bowling-green before our house in the garden front, but the hill, which descends gradually to the brook, looks so natural and pretty as it is, that it would be a pity to make it level: and so we determine to keep it a lawn, and to have sheep. [(Delville), Mrs Delany to Mrs Dewes, 25 Jan 1745-6]
The last day we ever met there he proposed to me a party on the water. The weather was excessive hot and fine; he said his sister was ready to wait on me, and desired me to take what company I pleased, and that that he had bespoke a barge of musick to attend us. The temptation was almost irresistible, but I thought it not prudent, and refused all his entreaties, at which he left me disappointed and chagrined, and instead of going on the water, put off the barges that were waiting on the waterside and went to the Tennis Court, where a ball struck him between the eyes and knocked him down. [Mary Granville [Mrs Delany] as a young woman. Letter XV in her autobiography. Undated but possibly 1720s]
Credit to freesfx.co.uk
Ride or Walk

The landscape at Arcadia, like most others of the period, was intended to be enjoyed via a predetermined circuit tour, taken on foot, on horseback, or in a trap.
I passed my time very agreeably … the weather so constantly fine that I tour'd round the park, or winding thro' a variety of ridings every day for two hours, with Lady Bute in her little low chaise. [(Bulstrode), Mrs Delany to Mrs Port, 31 August, 1777]
Indeed there is a riding round the extremity of the grounds, cut as a glade for the purpose of that enjoyment in a carriage. – This may be agreeable to some, and permission is given by the mobile proprietor to the visiting parties who chuse it, to take that advantage: but this liberty is of little consequence to people of taste; they will never suffer themselves to be confined to an idle, lounging vehicle, in the midst of so many beauties, where almost every step varies the scene, and every variation so capable of existing pleasure. [(Envil), Joseph Heely, Letters on the Beauties of Hagley, Envil and the Leasowes, 1777]
We have had Rain enough for some Days, to make several Places in the Garden very wet: the Gardener says he is obliged to keep the Canals very low; whether anything else could be done, I know not. By the way, he says too that he has put Roses, Carnations or Stocks into the Hothouse, & the white Ducks & Drake are in the Drying Yard. I took the Ladies yesterday up on the further Terrass yesterday. I wetted my Shoes quite through: they think it is the prettiest part of the Garden. One Morning the Gentlemen tried the Woods about the Hillhouse, but could find nothing, & we look'd at them from the Windows & Lady Hume likes both the Ornaments & Prospect very much. I would not have you think that the Gentlemen have seen nothing of the Garden, but they seem to have walk'd it by themselves & they are pleas'd with the Walk that goes round it. The Gravel Path round the Hill as [sic] been impassable all along, & I believe that round the Old Park is impassable at present. [(Wrest), Amabel Grey 1761 to Marchioness Grey (her mother) 23 December 1773 (Beds Record Office L30/9/51/1 L30/9/60/26)]
I have been strolling most part of the Morning (& a very fine one it is) with my Book & my two Companions, not my two Gentlemen I assure you, they follow their own Inventions on Horseback, but my Dog & my Fawn. Have I ever told you how rurally I have been equip'd all the Summer with a tame Fawn? I believe not & I wonder at it, for it's a great Beauty & a great Favourite, & I have been obliged to it for a very fine Shepherdess Air when it is so good to follow me about the Garden. [(Wrest), Marchioness Grey to Mary Gregory 1740 (Beds Record Office L30/9a/1)]
Flower garden
It is a common misconception that eighteenth century landscapes were limited to green swards of grass and tree plantations, but flower gardens were a popular feature too, with a wide range of scented flowers being grown.
Our garden is now a wilderness of sweets. The violets, sweet briar, and primroses perfume the air, and the thrushes are full of melody and make our concert complete. It is the pleasantest music I have heard this year, and refreshes my spirits without the alloy of a tumultuous crowd, which attends all the other concerts. Two robins and one chaffinch fed of D.D's hand as we walked together this morning. I have been planting sweets in my "Pearly Bower" – honeysuckles, sweet briar, roses and jessamine to climb up the trees that compose it, and for the carpet, violets, primroses and cowslips. [(Delville), Mrs Delany to Mrs Dewes, 29 March 1746)
Yesterday the weather was very agreeable – a soft air and no rain; I walked almost two hours without resting. The trees and grass were so green, and the flowers so sweet, that I was deceived for some time, and took it for spring;… I walked from one flower-plot to another, till I composed a nosegay of anemones, carnations, roses, honeysuckles, sweet williams, jessamine, sweet briar and myrtle, full of pleasing reflections. [(Northend), Mrs Pendarves to Mrs Ann Granville, 10 Oct 1737]
Yesterday morning, after breakfast, we all sallied forth to walk. We fed all the animals, such as bantams, guinea-fowl, pheasants, peacock, ducks, drakes, widgeon, teal, and an animal that is neither monkey, fox, nor squirrel but something of each creature, very harmless and tame, kept in the flower garden, and has a hard name that I can't remember; it is larger than a great cat. [(Bulstrode), Mrs Delany to Mrs Dewes, 14 Nov 1749]
That strange odd creature I mentioned is a Java hare.[(Bulstrode), Mrs Delany to Mrs Dewes, 4 Dec 1749]
For tho' the weather has been very bad I seldom fail of a walk or airing, or both, and find business in my garden to plant or remove. I have been enlarging my borders which sounds well, as in a figurative sense it may mean purchase of lands and increase in demesne; but to tell the truth it must be understood in the literal sense, for my borders are enlarged just 14 inches d'un bout jusqu'á l'autre, and being well enrich'd with good mould, have such a profusion of jonquils, ranunculus's, and tulips and hyacinths sett in them that when I have the honour to see you in the month of May, you shall fancy yourself in Flora's own cottage.[(Glan Villa), The Hon Mrs Boscawen to Mrs Delany, 13 Nov 1775]
Grove
[The North West Woodlands with Gardeners Scything, Hartwell House, Buckinghamshire, Balthasar Nebot, c1700-1770 (Buckinghamshire County Museum)]
Amongst his many other works at Arcadia, Capability Brown refined the geometric seventeenth-century grove into a more naturalistic collection of trees with twisting paths and dappled glades. This was widely admired, but doubts were expressed when such changes were first proposed at Wrest.
Instead if he [Capability Brown] does as he promises, consider of & mark trees for cutting both in the Grove & middle part, & look over the Kitchen Garden, it would take him up the Hours of Daylight, but I wish you was not to be troubled an Evening with him. I can only recommend that as he is Every Thing, Politician, (Divine for ought I know) Farmer, Lover of Virtue, you may set him upon any subject, or throw Books in his way, & show him your Sketches & Drawings, and there is besides a copious fund on the subject of Two Great Men of Luton & Hayes, whom he really does know a good deal of if he is disposed to be communicative. As to his idea about the Grove what I could collect is that it must be left to him upon the Spot, but in general that he would try to Unsquare it, (as I should do) would take of Formal purpose, or cut through, irregularly, the corner toward the Old Park, & break in the Outlines, particularly towards the Parterre where the Shadows are so strong. [(Wrest Park), Jemima, Marchioness Grey to Lady Bell Polwarth, 1779]
[A View of the Back Front of the House and part of the Garden of the Earl of Burlington at Chiswick, circa 1760-66, after John Donowell (RCIN 701784.g Royal Collection Trust / Her Majesty Queen Elizabeth II 2015)]
My garden is at present in the high glow of beauty, my cherries ripening, roses, Jessamine and pinks in full bloom, and the hay partly spread and partly in cocks, complete the rural scene. We have discovered a new breakfasting place under the shade of nut-trees, impenetrable to the sun's rays, in the midst of a grove of elms, where we shall breakfast this morning; I have ordered cherries, strawberries and nosegays to be laid on our breakfast-table, and have appointed a harper to be here to play to us during the repast, who is to be hid amongst the trees. Mrs Hamilton is to breakfast with us, and is to be cunningly led to this place and surprised. [(Delville), Mrs Delany to Mrs Dewes, 22 June 1750]
The space left by so well varied an outline, is a rambling glade, widening into a circular area, running up and ending in a bold sweep of wood, in which the eye is led to a statue of a piping Faunus, fancifully glancing within a break of the trees. Hence we learn that part of the dell to be dedicated to the rural deities – pleasingly reminding us of those excursive flights of poetical invention, giving revelry and dance to the ideal god, and his jolly crew: while on the other hand, the soft murmurs of a rill, and a lone urn in a solitary nook, have equal power to call the mind from festivity to solemn meditation, and to fill it with those tender feelings, of which we are susceptible, when any circumstance recurs, to revive the memory of a lost friend. [(Leasowes), Joseph Heely, Letters on the Beauties of Hagley, Envil and the Leasowes, 1777]
[The Wilderness, Hartwell House, Buckinghamshire, Balthasar Nebot, circa 1700-1770 (Buckinghamshire County Museum)]
Kitchen garden with hothouses & glasshouses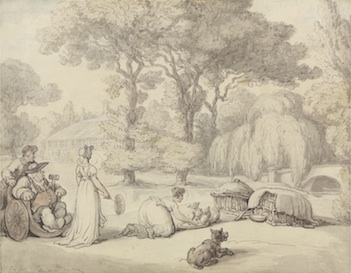 [Thomas Rowlandson, 1756–1827, British, Feeding the Ducklings, undated, Watercolor with pen and brown ink over graphite on medium, slightly textured, cream, wove paper, Yale Center for British Art, Paul Mellon Collection]

The walled kitchen garden kept the entire household fed, including staff, with fruit and vegetables far more varied than those we enjoy today. To enable this productivity, an array of hothouses, glasshouses and teams of gardeners was required.
Besides this, there is a very good kitchen-garden and two fruit-gardens, which, when proper repairs are made and they are set in order, will afford us a sufficient quantity of every thing we can want of that kind. [(Delville), Mrs Delany to Mrs Dewes, 19 July 1744]
It is not unworthy of remark, that here are left to range among the vegetables several tortoises, which are become so familiar, as to attend regularly the gardeners at their meals, and eat the leaves they offer from their hands. One of these is upwards of sixty-three years old, which is ascertained by the following circumstance: When Humphrey Marshall, of West-Chester, North-America, was a boy, he caught this tortoise, and marked it in such a manner as to enable him to identify it afterwards. These animals, which are of slow motion, seldom travel far from their native soil, and scarcely a year elapsed without his recognizing this individual for the space of sixty-three years after it had been thus marked. H.Marshall sent it as a present to the proprietor of Grove-Hill. This was about eight years ago, so that this little quadruped is upwards of seventy years old. [Dr John Coakley-Lettsom, Grove-Hill, An horticultural sketch, 1794]
[Windsor Castle c. 1710, Attributed to British School, eighteenth century, Oil on canvas | 68.2 x 83.0 cm (support, canvas/panel/str external) | RCIN 400926, Royal Collection Trust / © Her Majesty Queen Elizabeth II 2015.]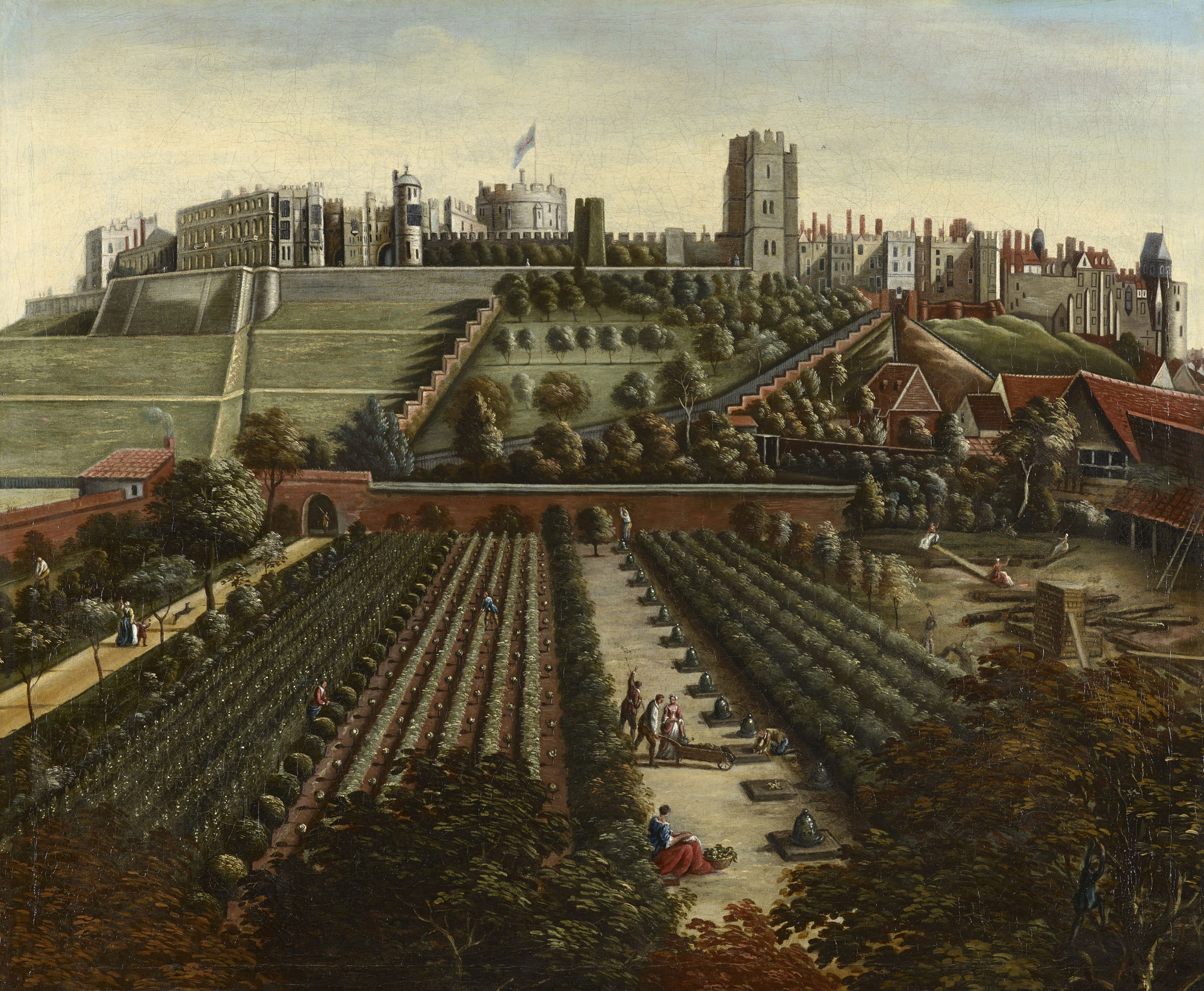 [Windsor Castle c. 1710, Attributed to British School, eighteenth century, Oil on canvas | 68.2 x 83.0 cm (support, canvas/panel/str external) | RCIN 400926, Royal Collection Trust / © Her Majesty Queen Elizabeth II 2015]
Today we are busy, for all our green-house plants are hous'd, and we pretend to display much in taste in ranging them. By and by there will be a semicircle and the horse-shoe bench in the centre (all surrounded with geranium blossom and balm of Gilead) will be very warm and pleasant, and fragrant. The principal figure is a yellow carnation which having miss'd its opportunity to blow, is now making itself and us amends. [(Glan Villa), The Hon Mrs Boscawen to Mrs Delany,14 October 1776]
I will send you a packet of seeds from Mr Bromton. Did you sow the feather grass seed, and does it appear yet? I am so plentifully supplied with the hothouse here, and from the Queen's garden at Kew, that natural plants have been a good deal laid aside this year, for foreigners, but not less in favour. O! how I long to show you the progress I have made!... [(Bulstrode), Mrs Delany to Mrs Port, 20 Oct 1777]
Orangery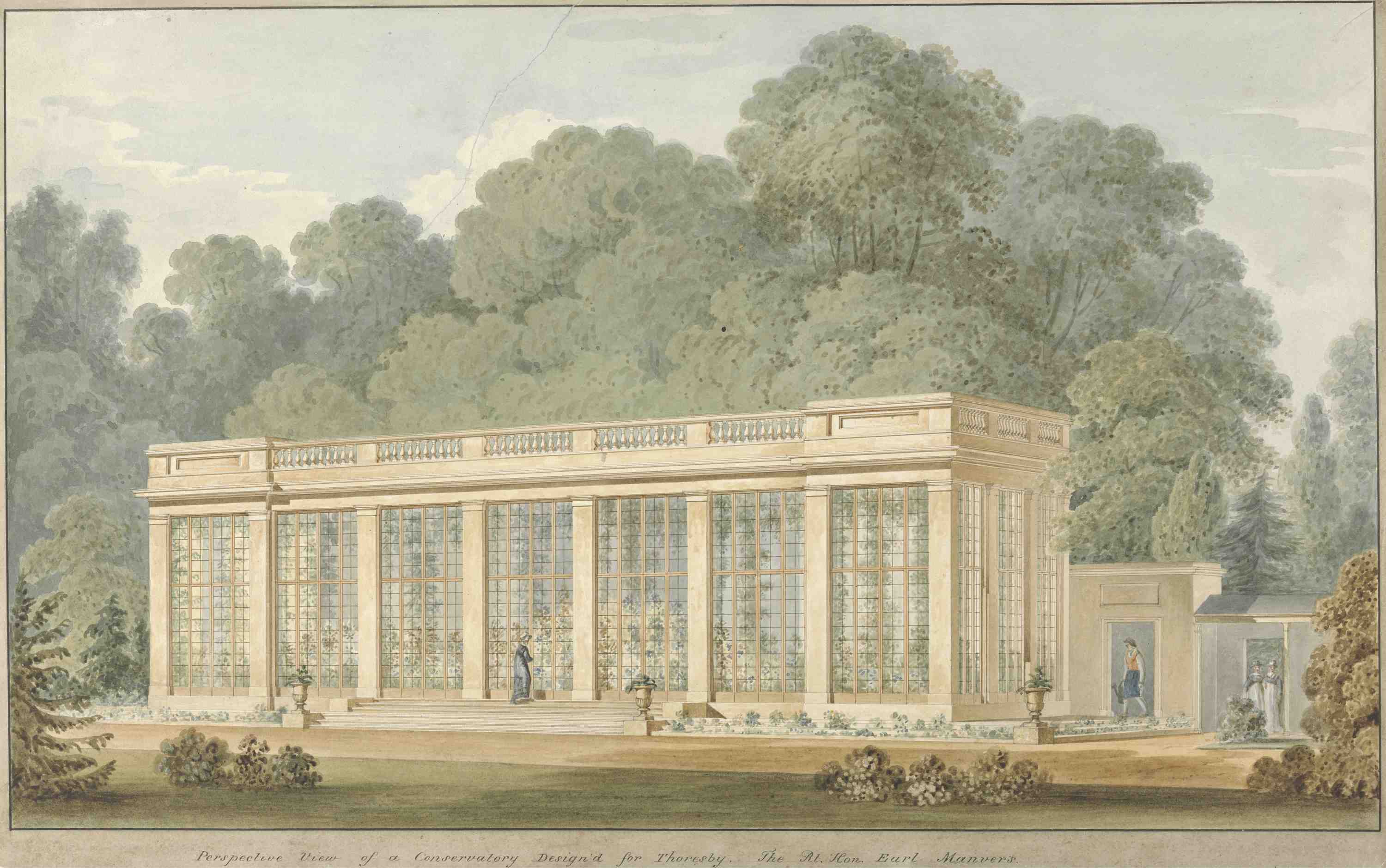 [Conservatory at Thoresby Hall, Nottinghamshire, studio of Sir Jeffry Wyatville, 1766-1840 (Yale Center for British Art, Paul Mellon Collection)]
Having been introduced to the idea of growing oranges by John Parkinson in 1629, the British gentry made orangeries a common garden feature by the eighteenth century. With trees grown in containers, often with wheels on the bottom of them, the orangerie combined the design features of a green house, in terms of a warmer artificial climate, with wide doors which would allow the trees to be wheeled outside in the summer.
I am now considering about a greenhouse [orangery], and believe I shall build one this spring; my orange-trees thrive so well they deserve one. I propose having it 26ft. by 13, and 13 high, and a room under it (with a chimney for my poultry-woman) that will open into a little back garden, which I intend to make my menagerie. [(Delville), Mrs Delany to Bernard Granville, 19 Jan, 1750-1]
Lawn
[A View of the Palace from the Lawn, in the Royal Gardens at Kew 1763, William Woollett (1735-85), Etching | RCIN 702947.a, Royal Collection Trust / © Her Majesty Queen Elizabeth II 2015.]
It may be many times bigger than the average family's twenty-first-century lawn, but that at Arcadia would still be recognisable as the location for much childish fun, particularly hoop rolling and cricket games. Follow this link to see what hoop rolling was all about!
Dear Pip
I wish you was here to play at hoop with me, and sisters and sister Peggy. I have got a gold coach-and-six papa gave me, and the horses are two dragons, two sober-sides, and two snips; but you are too big to ride in my coach. "Tantive" that's the hunting song, - I can sing it all. My love and kiss to you. That's all from your
Affectionate servant,
Tichfield
[(Bulstrode), The Marquis of Titchfield to Mrs Dewes, Bulstrode, 30 Nov 1740 (from Mrs Delany's Letters)]
It's time to play quoits! Download the instructions here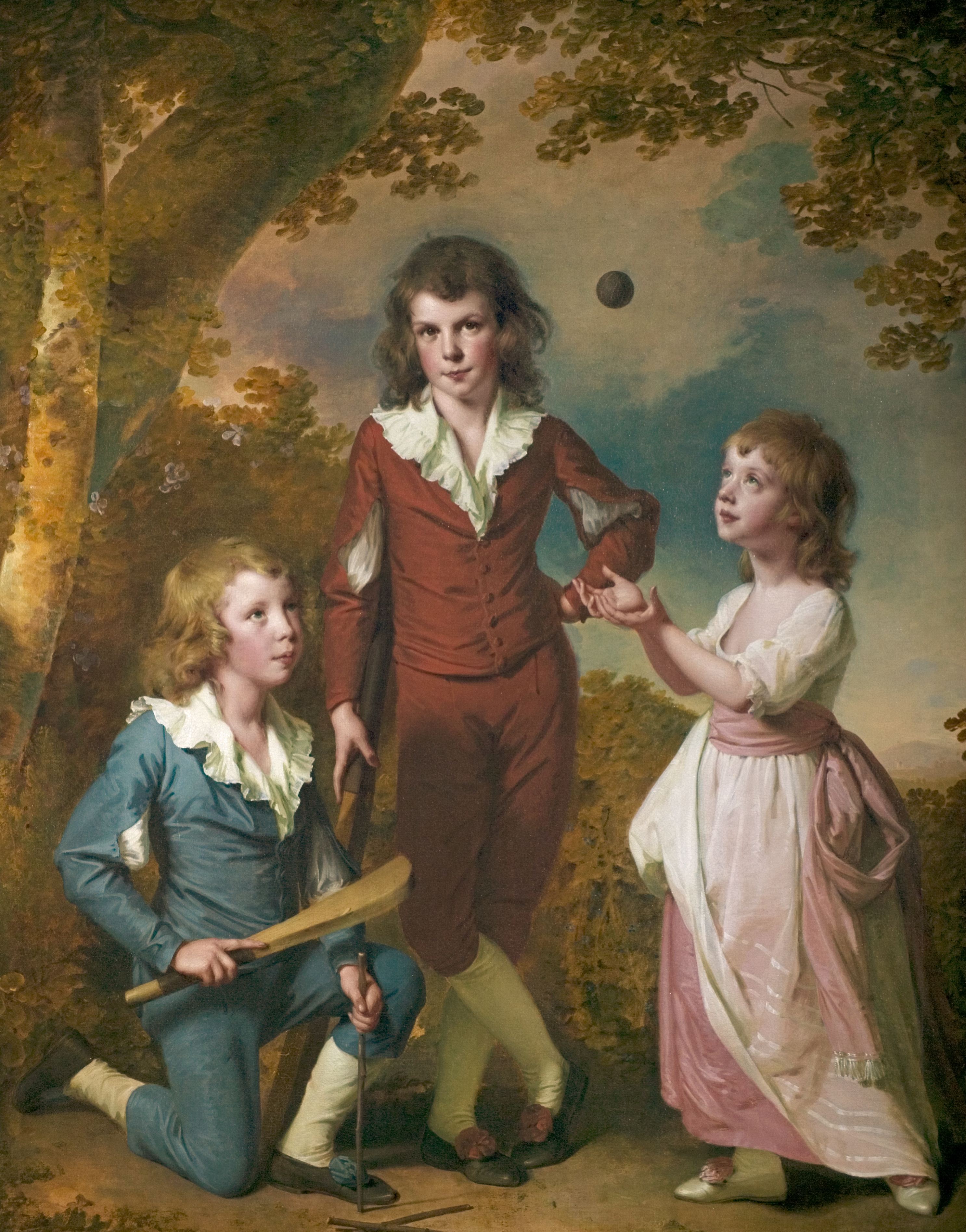 ['The Wood Children', Swanwick Hall, 1789, by Joseph Wright, ©2016 Derby Museums]
Bills for toys for John Frederick Sackville (born c.1779) to enjoy at Knole in the eighteenth century include "'butts and stumps - £0.8s.6d.' for playing cricket.
(Knole), Robert Sackville-West, Inheritance: The Story of Knole and the Sackvilles, p132.
Terrace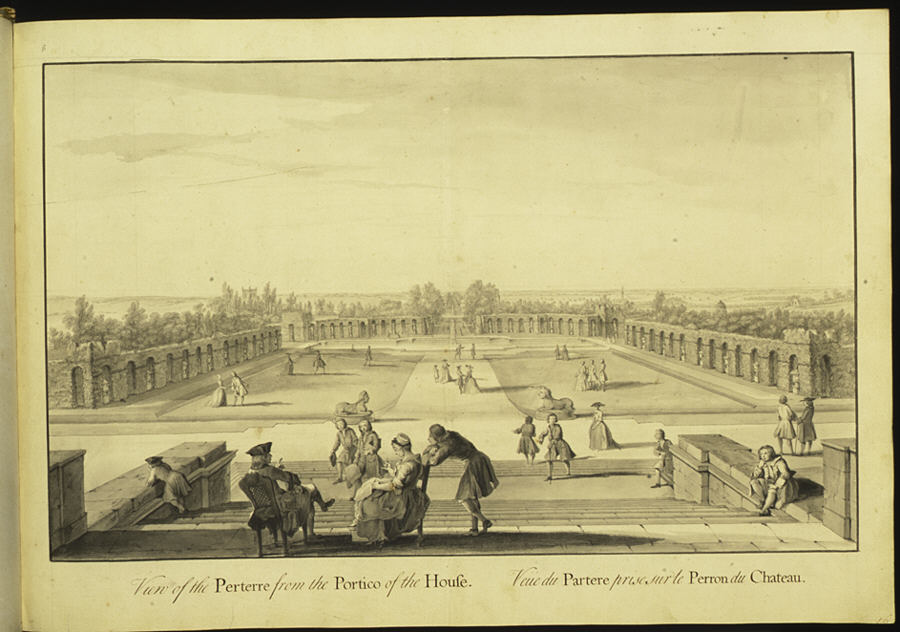 [View of the Parterre from the Portico of the House, Jacques Rigaud (French, Marseilles 1681–1754 Paris), ca.1739, Harris Brisbane Dick Fund, 1942, www.metmuseum.org]
The terrace at Arcadia was one of the widest in the country, and was frequently used for entertaining, with musicians and dancing.
We sat in the bay-window, well pleased with our companions, and the brilliant show in the terrace, on which we looked; the band of music playing all the time under the window. – When they returned we were summoned into the next room to tea, and the Royals began a ball and danced two country dances, to the music of French horns, bassoons, and hautboys, which were the same that played on the terrace. [(Windsor Castle), Mrs Delany to Hon Mrs Hamilton from Mrs Delany, June 28 1779]
[After Highmore, Anthony (1718-1799), RCIN 702885 Royal Collection Trust / © Her Majesty Queen Elizabeth II 2015]
The Duchess of Portland, I think has been much affected by it [long course of damp weather], and has had an attack of her rheumatick complaints; I thank God the violence of the pain is abated, but it robs her of the enjoyment of her garden and park, except out of the window, but the hares feed as usual, and have a circle of food prepared for them every evening: there are never less than between 20 and 30 at supper! [(Bulstrode), Mrs Delany to Bernard Granville, 10 October 1774]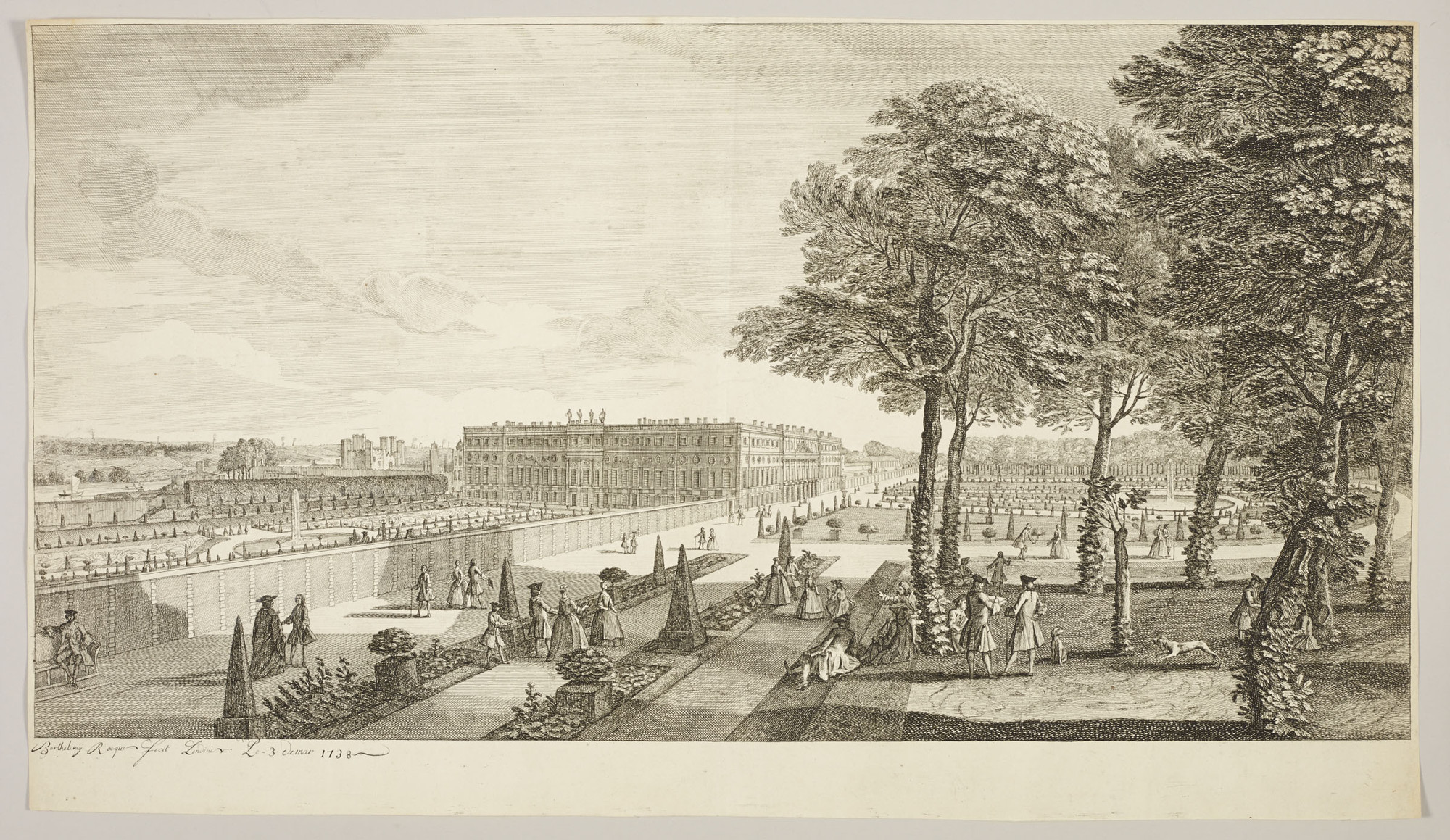 [Prospect of Hampton Court from the Garden side, dated 1738, Attributed to Bartholomew Roque (fl. 1738), Etching | RCIN 702881 Royal Collection Trust / © Her Majesty Queen Elizabeth II 2015]
Fête champetre saloon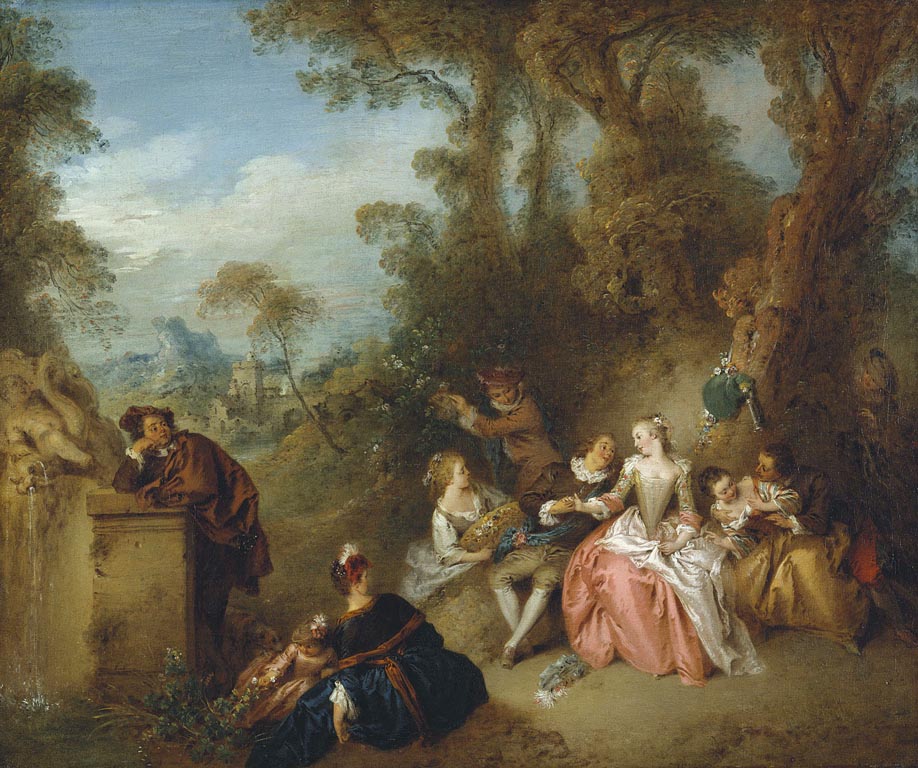 [Fête Champêtre c.1728-36, Jean-Baptiste-Joseph Pater (1695-1736), Oil on canvas | RCIN 400671 Royal Collection Trust / © Her Majesty Queen Elizabeth II 2015]
The eighteenth-century garden often acted as a back drop for sociable occasions and Arcadia was no different. It even had a saloon built in the landscape in order to create a magical scene for an extravagant party known as a Fête Champetre. Made popular in Versailles, France, this particularly flamboyant type of party involved guests dressing up in a pastoral clothes, often as shepherds and shepherdesses, and taking part in activities such as country sports and dancing.
I think it is a fairy scene that may equal any in Madame Dànois; nothing at least in modern days has been exhibited so perfectly magnificent – every body in good humour, and agreed that it exceeded their expectation. The master of the entertainment, (Lord Stanley), was dressed as Reubens, and Lady Betty Hamilton (for whom the feast was made), like Reubens' wife. The company were received in the lawn before the house, which is scattered with trees and opens to the downs. The company arriving, and partys of people of all ranks that came to admire, made the scene quite enchanting, which was greatly enlivened with a most beautiful setting sun breaking from a black cloud in its greatest glory. After half an hour's sauntering the company were called to the other side, to a more confined spot, where benches were placed in a semicircle, and a fortunate clump of trees in the centre of the small lawn hid a band of musick; a stage was (supposed to be formed) by a part being divided from the other part of the garden, with sticks entwined with natural flowers in wreaths and festoons joining each. A little dialogue between a Shepherd and a Shepherdess, with a welcome to the company, was sung and said, and dancing by 16 men and 16 women figuranti's from the Opera lasted about half an hour; after which this party was employed in swinging, jumping, shooting with bows and arrows, and various country sports. The gentlemen and ladies danced on the green till it was dark, and then preceded the musick to the other side of the garden, the company following, where a magnificent saloon had been built, illuminated and decorated with the utmost elegance and proportion: here they danced till supper in a most convenient and elegant apartment, which was built quite round the saloon of a sufficient breadth and height to correspond with the saloon; after the supper, (which was exceedingly good, and everybody glad of it as the evening had begun so very early, all the company being assembled in the saloon,) and interlude in which a Druid entered as an inhabitant of the Oaks, welcomed Lady Betty Hamilton, and described the happiness of Lord Stanley in having been so fortunate, and in a prophetic strain foretold the happiness that must follow so happy an union which with chorus's and singing and dancing by the Dryads, Cupid and Hymen attending and dancing, also it concluded with the happiness of the Oak making so considerable a part in the arms of Hamilton; a piece of transparent painting was brought in, with the crest of Hamilton and Stanley, surrounded with all the emblems of Cupid and Hymen, who crowned it with wreaths of flowers. From the great room in the house a large portico was built, which supported by transparent columns and a transparent architecture on which was written, "To Propitious Venus". The pediment illuminated, and obelisks between the house and saloon. People in general very elegantly dressed the very young as peasants; the next as Polonise; the matrons dominos; the men principally dominos and many gardiners, as in the Opera dances. [(Oaks, Epsom), Mrs Delany to Mrs Port, Description of the Fete Champetre given at Lord Stanley's Villa, the Oaks near Epsom on 9th June, 1774]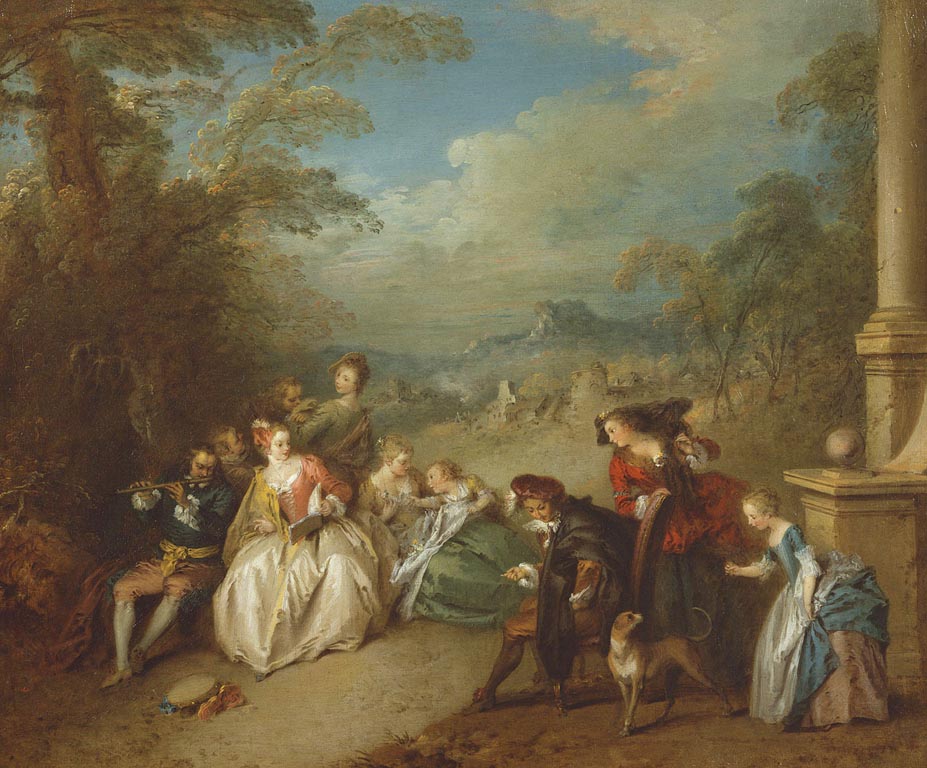 [Fête Champêtre with a Flute Player c.1720-36 , Jean-Baptiste-Joseph Pater (1695-1736), Oil on canvas | RCIN 400673 Royal Collection Trust / © Her Majesty Queen Elizabeth II 2015.]
Wood
[Thomas Gainsborough RA, 1727–1788, British, Clayton Jones, 1744 to 1745, Oil on canvas, Yale Center for British Art, Paul Mellon Collection]
Woodland on eighteenth-century estates not only provided valuable income from the sale of timber, but were also noted elements in their own right and provided opportunities for communing with the wilder elements of nature.
Holly Mount: …,as soon as dinner was over we walked to Wood Island, where the Dean amused himself with his workmen, and I at my work under the shelter of a young oak in which D.D. has made a very snug seat. When he had discharged his labourers we set forward for adventures; and as bold as Don Quixote, he undertook, armed with a stout cane instead of a lance, and I (with my shepherdess's crook) followed intrepid, to penetrate the thickest part of the wood, where human foot had not trod I believe for ages. After magnanimously combating brakes, briars, and fern of enormous size and thickness, we accomplished the arduous task, and were well rewarded during our toil by finding many pretty spots enameled and perfumed with variety of sweet flowers, particularly the woodbine and wild rose which grow here in great abundance. [Mrs Delany to Mrs Dewes, 21 June 1745]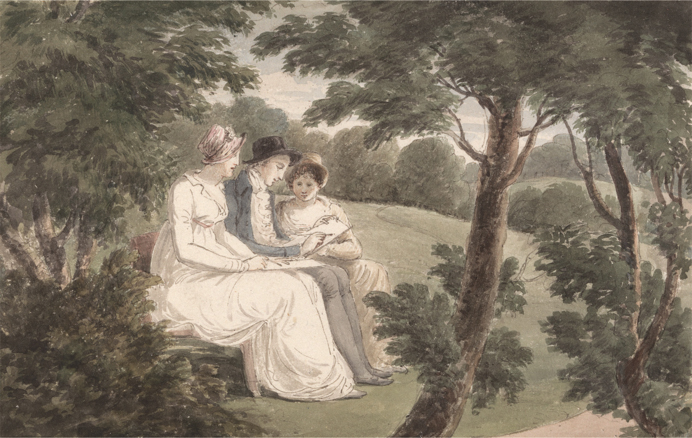 [Attributed to James Holworthy, 1780–1841, Miss Templeton, Mr. Holworthy and Miss Crewe, Sketching in a Wooded Landscape, undated, Watercolor and pen and black ink on medium, slightly textured, cream laid paper, Yale Center for British Art, Paul Mellon Collection]
Drive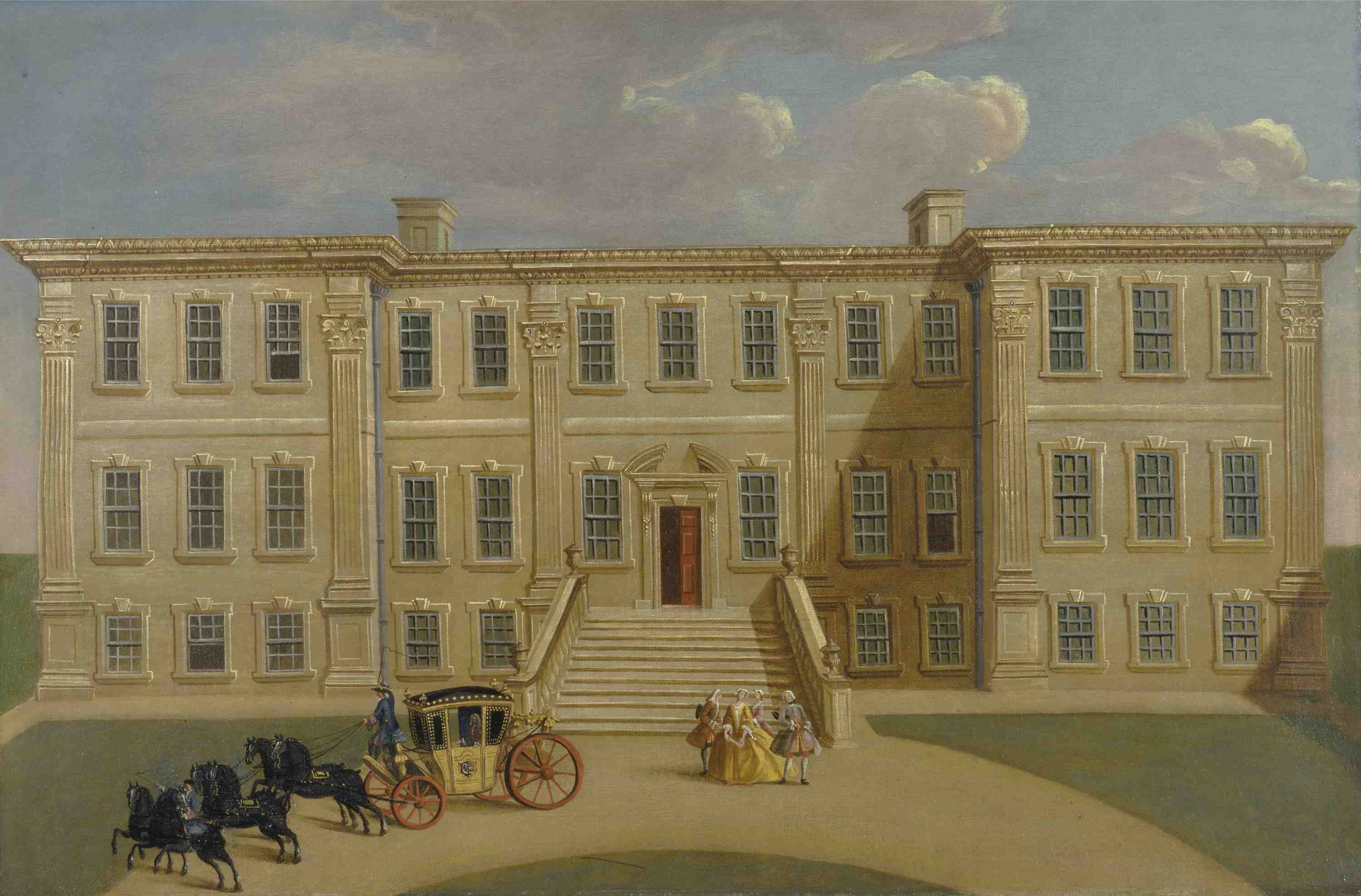 [Unknown artist, eighteenth century, Calke Hall, Derbyshire, the Seat of Sir Henry Harpur, Bt., ca. 1734, Oil on canvas, Yale Center for British Art, Paul Mellon Collection]
Arcadia's long drive was created in 1720 after the original approach to the house was diverted in order to create a more impressive and scenic arrival and tour of the estate for guests. Carriages were the main method of transport for the Georgian elite, but other forms of transport could also be enjoyed!

I laughed immoderately at the new carriage and wished for you there, more than ever I did when flaunting a coach and six. The rest of the company were conveyed home in a chaise, being too proud for carting. You must understand that we are as private in this place as heart can wish, and we may do a hundred frolics of that kind without any other witnesses than the servants of the house. [(Killala), Mrs Pendarves [Delany] to Mrs Ann Grenville, 6 September 1732]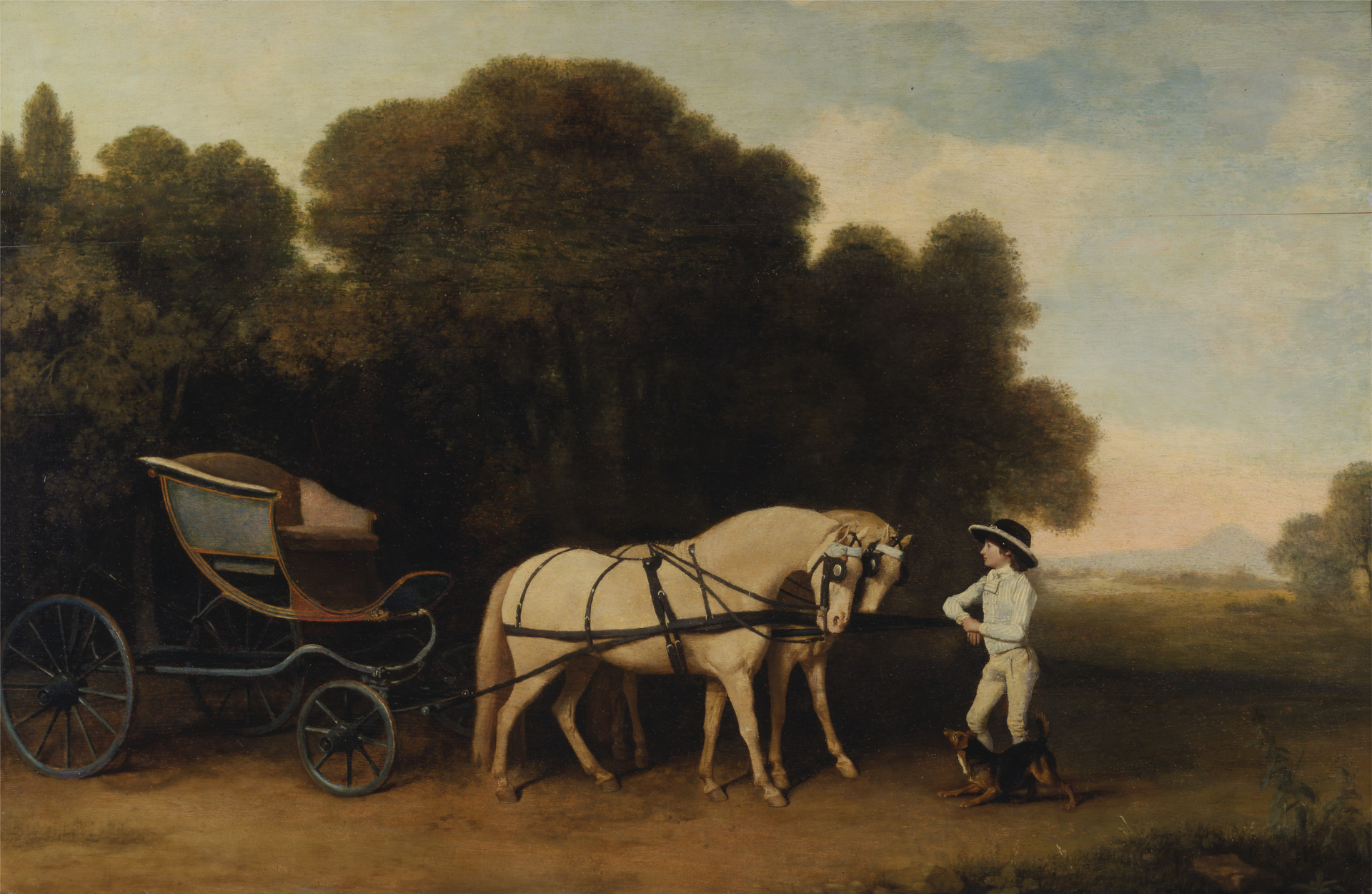 [George Stubbs, 1724–1806, British, Phaeton with a Pair of Cream Ponies and a Stable-Lad, between 1780 and 1784, Oil on panel, Yale Center for British Art, Paul Mellon Collection]
Ferme ornée
The eighteenth century saw a cultural fascination with the rural, inspired by classical ideals, which prompted many garden owners to create their own fantasy farms, in which they could act out their vision of farming life. The ferme ornée at Arcadia is typical of this fashion.
With the beauties which enliven a garden, are everywhere intermixed many properties of a farm; … the lowing of the herds, the bleating of the sheep, and the tinklings of the bell-wether, resound through all the plantations; even the clucking of poultry is not omitted; for a menagerie of very simple design is placed near the Gothic building; a small serpentine river is provided for the water-fowl, while the others stray among the flowering shrubs on the banks, or straggle about the neighbouring lawn. [(Woburn), Thomas Whately, Observations on Modern Gardening, 1770]
Welcome to our gardens of Arcadia where you, our visitor, can experience our smooth lawns, tranquil glades and sensational grottos!